Article by Inland Catholic Byte Diocese of Sand Bernardino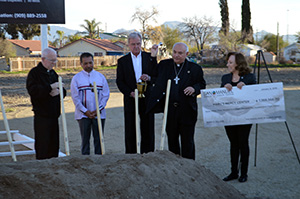 SAN BERNARDINO—A proposed shelter and transitional facility for homeless men in San Bernardino that appeared to be a longshot two years ago broke ground on January 9.
 The ceremonial groundbreaking for Mary's Village drew a host of civic leaders and representatives from the San Manuel Band of Mission Indians, which provided a key financial contribution needed to spur construction. Bishop Gerald Barnes blessed the ground and offered words of congratulations to Father Michael Barry, S.S.C.C. and his team. Fr. Barry is the founder of Mary's Mercy Center, an organization that has built several social service facilities in the City.
 "As we know, this is not Father Barry's first rodeo as far as building shelters in the City of San Bernardino," Bishop Barnes said. "Mary's Table and Veronica's Home of Mercy I and II have embodied this ministry as places where God's healing and mercy are present."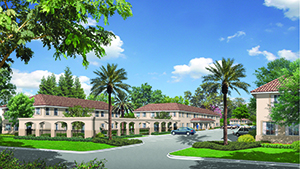 Located on Artesian Avenue, the 85-bed Mary's Village is to be part of a south campus for Mary's Mercy Center that would also include a medical and education building, apartments, a community garden and community care facilities. Mary's Village will use "wrap around services" to do for homeless men what Veronica's Home of Mercy I and II have done for homeless women – provide longer term education, training and rehabilitative services to create a path to self-sufficiency.
 San Bernardino City leaders have officially declared a homelessness crisis and more than 30 percent of the City's population lives below the federal poverty line. Despite the obvious local need and Mary's Mercy Center's track record of being able to effectively meet it, the project drew some opposition from the City Council in the Summer of 2016, resulting in an initial rejection of the permit application. Local Catholic leaders and other members of the city's faith community and social outreach advocates protested and eventually succeeded in getting the Council to reverse its position. Bishop Barnes recalled that show of faith in action during his remarks at the groundbreaking.
 "I commend the faith community of San Bernardino for speaking out so forcefully and passionately in favor of Mary's Village," he said. "We would not take 'no' for an answer."
 Even after receiving approval, Mary's Village faced a significant fundraising challenge to meet the $12 million cost of the project. The San Manuel Tribe, which also provided a major gift toward recent construction of the new Aquinas High School Performing Arts Center, stepped forward with a $7.3 million grant. The Tribe had also contributed toward the construction of Veronica's Home of Mercy in the 1990s.
 Tribal Secretary Ken Ramirez offered comments on the Tribe's continuing generosity toward Catholic-based projects in the region.
 "In our early years the Catholic Church provided food and basic needs to our Tribe," he explained.
 Fr. Barry rejoiced in the strong showing of community support at the groundbreaking for Mary's Village. He said that taking on homelessness in the city will take nothing less than collaboration amongst the faith community, non-profits and political leaders.
 "It takes a city to get the homeless healed and back into society," he said.